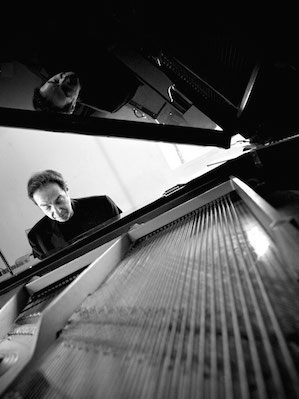 Olivier Hutman was born November 12th, 1954 in Boulogne, France. He is a pianist, arranger and composer.
Hutman holds a PhD in Ethnology. He wrote his thesis on Urban Music in Ghana under the supervision of Jean Rouch.
He studied piano at the Saint Maur National Conservatory of Music for ten years.
Compositions: Composer, arranger in jazz, theatre, films : jingles, music for industrial films & documentaries (more than 200 scores ; Lancôme, Sanofi ; Rhône Poulenc, Chanel, Nestle, etc…), TV documentaries, pianist or/and arranger for : Michel LEGRAND, Philippe SARDE/Hubert ROSTAING, David GILMORE.
Olivier Hutman has worked with Bertrand Tavernier, Serge Moati, Jean Paul Goude.
Feature Films include: Maigret, Mille désirs 1997, Mon Oncle, 1985 : High Speed, 1987, Printemps perdu, 1990, Ma Sœur Chinoise, 1994, Die Schaukel, 2004, Le Miroir aux alouettes, 2000 , La Moitié du ciel, 2001.
Olivier Hutman was commissioned to write an original ballet score for Ballet Maurice BEJART, 1990 ; Commissionned by International Musik Festival, Davos, to write suite performed by members of the New York Philharmonic, 1993 .
Career as a pianist: Accompagnist for pop singers, amongst which : Henri SALVADOR , Yves MONTAND, Charles AZNAVOUR.
As a Jazz Performer: founder of MORAVAGINE 1975 ; member of CHUTE LIBRE 1975-1977 ; Christian ESCOUDE Quartet 1981-1983; Founds own trio (Marc BERTAUX/Tony RABESON) 1983-1989 ; Eric LELANN Quartet ,1984-1988, Barney WILEN Quartet 1991-1992.
As a sideman, has worked and recorded with many artists amongst which : Pepper ADAMS, Art FARMER, Clark TERRY, Harry ' Sweets' EDISON, James MOODY, Michel LEGRAND, Dee Dee BRIDGEWATER, Mark MURPHY,Stephane GRAPELLI, Toots THIELEMANS, Gary BARTZ, Junior COOK, Frank WESS, Clifford JORDAN, Mundell LOWE, Teddy EDWARDS, David 'Fathead' NEWMAN, Von FREEMAN, Steve GROSSMAN, Tom HARRELL, George GARZONE, Rich PERRY, Steve WILLIAMS, ROY HARGROVE
Tours and festivals: Antibes ; MIDEM-Cannes 1987/93/98 ; Singapore, Bombay, Montreal 1987/93 ; Prague, Middleheim (Antwerpen) ; Angoulême ; Nîmes ; Nancy ; festival de paris ; La Réunion ; Tokyo 1991/93 ; Leverkusen ; Berlin ; Warsaw ; Montreux ; Brussels ; Amsterdam ; Calvi ; Davos ( Switzerland) 91/92/93/94 ; Newport Jazz festival, Saratoga (USA), 1993 ; La Villette (Paris) 1993 ; Tahiti, 1995 ; Martinique, 1994 ; USA (Boston, San Francisco, Los Angeles), 1995 ; Edinburgh, 1999, 2004 Singapore/Malaysia, 2003; Hungaria 2004 ;Iceland, 2004 ; Madagascar, 2005 ; Washington, New York, 2005, Malaysia, Singapore, Djakarta, 2005, New York 2006/2007 (Blue Note, Lincoln Center, IAJE).
European tour with singer Denise King 2010, European Tour with Denise King & Olivier Hutman Trio (France, Germany, Italy, Belgium, Switzerland) 2011.
Recordings: Over two hundred LP's and CD's with numerous pop and jazz artists and as a leader, in Paris, Zurich, Rome, New York (Skyline Studios New York, Acoustic Recordings Brooklyn New York), Los Angeles ( Castle Oak Studios), Tokyo.
Honours : prix Boris VIAN, French Academy of Jazz , for best Record of the year, 1984 ; 2nd European keyboardist in Jazz Hot magazine readers poll, 1987. Nomination for best record of 1997 French jazz Academy. Awards for recordings in 2002, 2003, 2008 (Le Monde, TSF, FIP, France-Infos, Jazzman)
Awards for films: Mon Oncle, best score, Biarritz, 1986 ; Printemps Perdu, Best Score Montreal 1995. Virtual Allergy, Best Score, Biarritz, 1999. D&O Biarritz 2010.
Featured Artist: Dictionnaire du Jazz (Robert Laffont) Cambridge University Dictionnary of Music. Grove Dictionary of Music (Ed. 2000)
---
2011: Spring/Summer: European tour with more than 35 dates with Denise King and the O. Hutman Trio (France, Italy, Belgium, Holland, Germany, Switzerland.)
2012:
– European tours – more than 40 dates – with singer Denise King
– Recording of a new album, Denise King & Olivier Hutman:
"Give Me The High Sign" (compositions and arrangements)
2013: Release of « Give Me The High Sign ». European tours with Denise King. Tour with saxophonist Gary Smulyan. Tours in Australie, Indian Ocean.
2014: Creation at "Musée d'Art et d'Histoire du Judaïsme" of 4 original arrangements written for 4 hands piano on Yiddish songs for pianists Itamar Golan and Natsuko Inoue. Tour in China (Beiging, Guangzhou, Hong-Kong).
2015: Tour in Israel with flutist Avichai Ornoy, first soloist flute in the Israel Philharmonic Orchestra. Recording of a new project for Cristal Records with singer Alice Ricciardi. European tours and CD recordings with saxophonists Eric Alexander and Gary Smulyan.
2016: European tour with Gary Smulyan
2017: European tour with Gary Smulyan,- Master-classes and concerts in China with the "Olivier Hutman / Jonathan Orland 4tet (Beijing, Guangzhou).
2018: Recording for Cristal Records with the BEATGAMES project (Hutman-Bertaux-Rabeson). Release in April 2018. European tour with the Gary Smulyan-Ralph Moore 5tet.